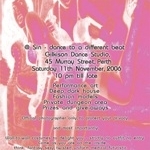 SPANK! 'FETISH BALL' LAUNCH FEB 06
GayinWA: More latex than a baby bottle nipple!!
You would have forgiven me for thinking I was on the set of the movie Blade, keeping an eye out for Wesley Snipes to whisk me away in a blaze of gun fire and the swish of a ninja sword.
But in reality I was at Gilkison's Dance Studio and enjoying SPANK's Fetish Ball, elbow deep in vampires, vampire killers and dominatrix girls, angels and aliens and more latex than a baby bottle nipple manufacturer. And, if this was not enough, you could lose yourself in a dungeon – chained up in the stocks or strapped to a whipping cross. If this was not your thing, there was a groping cage and a spanking chair to get you through the night.
The floorshows were just fabulous and very provocative. I was lapping it all up as the official photographer. Dressed not as you would normally see me – this time, I was in dressed in a Tarzan leather Lapp Lapp and a sleek pair of fishnet stockings.
My photos say it all and I must add that SPANK! was a huge success. Well done to the organiser Helen. Hundreds of folks enjoyed a night of fun and games. Can't wait until the next show on the 17th Feb next year.
OutinPerth magazine:
Sin at Gilkisons, that bastion of things a little darker/more alternative in Perth, hosted the inaugural SPANK! Fetish Ball. Tickets demanded that attendees dress to impress, and promised deep dark music, sexy shows, and a play area.
The crowd numbered around 300 at its peak and provided entertaining viewing with corsets, leather, PVC and heavy eye makeup abounding.
There was good variety in costume, age, gender, with plenty queer folk out and about. With four shows between 10pm and 2am themed as stylized medical and vampire scenes, through to a couple of fun little dance routines, the entertainment factor was certainly delivered.
The play area got busy later in the night – it was stocked with a cage, cross, stocks, but with BYO equipment. Most of the play I saw was fairly light and fluffy, but given the space got very, very packed; it would've been hard to engage in anything more serious.
Suggestion, maybe a bigger space or limits on how many are allowed in at one time in the future? Overall, the night was excellent. There's a rumour the ball may be repeated in the future – I for one hope it is.