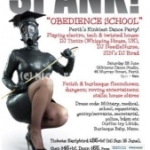 SPANK! 'OBEDIENCE SCHOOL' JUN 08
OutinPerth: Time for a Spanking!
The 4th SPANK! dance party (Gilkisons, Sat 28th June 08) was a whirlwind of kinky costume, colour and cuteness. With a filthy edge – of course – this fetish & fantasy party is now a regular on the alternative Perth scene, and attracts people from various communities across the city; gay, Goth, BDSM and crazy clubbers.
The theme this time was 'Obedience School', and as the rule is 'no outfit, no entry', the venue was packed with around 500 dressed-to-the-nines mistresses and masters, cops, schoolgirls and more, all flirting, dancing and playing on the various pieces of equipment in the dungeon… naughty!
The crowd also went wild for the floorshows: fire twirling, burlesque girlies, crystal ball jugglers and podium dancers. A fab night – we can't wait for the promoters to come back to Perth next year and put on another SPANK!
GayinWA: A Spanking good time!
What a party! I started getting ready at 5pm. It's an hour's drive down to Perth for me! Just had to put a little face on : ) I have been slowly transforming my jacket – it's gold and silver. I have added wings, feathers and trill. Add new contacts and black knee high boots, along with silver pants, and I do get some looks when I pull up at the lights.
It's SPANK! at Gilkisons. It's packed and hard to move. It's hard to manoeuvre the steps with my wings and camera bag. As far as the eye could see, it was lit up like a medieval carnival. Fire eaters doing flesh fire, crystal ball jugglers, ladies in their undergarments, men on leads, you name it. DJ Needle Nurse was hypodermics on the vinyl.
I caught up with Helen and Keith on Tuesday just before they flew out. They were ecstatic with the turn out on the night – more than 500 Spankers! Helen said it was great that the community had continued to support the SPANK! fetish night – it just keeps growing all the time. They will be back next year to hold another party; they are renovating their home in England and, as soon as they can, they are moving back to Perth – they miss all their mates and family here terribly. See you all at the next SPANK!