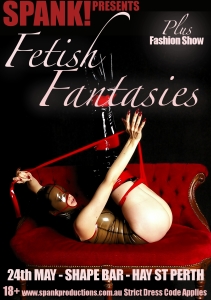 Get ready for a night of extravagance and opulence – spend an evening in decadent style with us and some of Perth's sexiest party people at Spank's Fetish Fantasies party.
Prepare yourself for an evening of deviant depravity and over-the-top extravagance, with your highest heels, your tightest corset, shiniest latex or best leather – dress to impress, tempt and tantalise!
Expect the usual wicked Spank mayhem, with our debauched guests in eye-popping extravagant outfits, plus a special display of fashion from local fetish designers to set the mood and showcase Perth's sexiest clothes on Perth's sexiest people. The evening of decadence and hedonism isn't complete without saucy tunes spun by our resident DJs Stu V, Jessica_Kill and Boxer, with Elvi Artgod displaying his legendary work and airbrushing live models and guests for your perverted pleasure
As usual the Spank dungeon will be in action from 11pm to service your dark desires and secret fantasies with Mistress Eden assisting you as you play and explore your fetish fantasies in our den of deviance and iniquity.
Guests are expected to dress in their finest attire – the more wicked and self-indulgent, the better – consult our dress code guide for more inspiration, but be sure to dress to impress.. outrageous and overdressed is our minimum standard!
Join us for a celebration of indulgence, opulence and extravagance at the Spank – Fetish Fantasies party.
Venue: Shape Bar (237 Hay St, East Perth) Enter from back alley
Time: 9pm – 4amish
Cost: $20 on the door
Fashion Display featuring pieces from:
Metamorphosis Latex
Merging an interest in tailoring and design with the sensuality of latex, Sydney-based Metamorphosis Latex produces a range of pieces often based on historical patterns which allow for immense and creative possibilities in fetishwear.
Warped Photography Collection
Taking their place on the catwalk alongside these talented designers' work will be pieces from the Warped Photography collection. Amongst the collection are pieces from Pretty Pervy, one of the world's most adventurous and well-respected latex design houses. For a sneak preview of some of the Warped collection, visit Warped Photography on facebook.
Devilish Designs
Providers of sexy accessories, from bombshell burlesque pieces to daring lingerie, Devilish Designs' online store is fast and convenient, and their pieces are even stocked by some of Perth's premier adult stores.
Live airbrushing from Elvi Artgod, plus merchandise for sale.
ALL GUESTS please read the information below – it may well have changed since you last joined us!
BEHAVIOUR:
Sleazy, disrespectful behaviour, (touching people without their permission, etc), WILL NOT BE TOLERATED. Spank and Shape staff take this behaviour very seriously and those behaving in this way will be warned or removed from the venue. If you see someone misbehaving, or are the victim of this behaviour, please INFORM A MEMBER OF STAFF IMMEDIATELY.
DRESS CODE:
NO OUTFIT, NO EFFORT = NO ENTRY: THIS WILL BE ENFORCED WITH PARTICULAR ENERGY BY SPANK AND SHAPE STAFF
**BASIC BLACK OR A SHARP SUIT IS NOT ENOUGH TO GAIN ENTRY**
Spank attendees do not look like they're out on a regular night on the town! Dress UP and dress for Spank only!
No normal streetwear or regular formalwear is allowed – see www.spankproductions.com.au for ideas.
No full nudity – bare boobs and bums are fine but no wrinkly bits please.
Please bear in mind that if you see someone not in an outfit, they may actually be Shape Bar & Spank staff, so before you assume or make a complaint, please check first!
DUNGEON:
Mistress Eden will take up residence in the dungeon from 11pm-2am to help ensure that play is safe and consensual. Please bring your own toys (whips, paddles etc) but bear in mind that we can't take responsibility for lost items. As ever, you use the dungeon at your own risk!
Remember: NO BLOOD PLAY OR BREAKING OF SKIN, ANYWHERE IN THE CLUB! Our very own spanking bench with foot and wrist restraints will be on hand for spanking fun, plus a St Andrews cross, and spreader bars.
Make sure to familiarise yourself with Dungeon rules on the Spank website, Facebook, or on the night.
We ask that you please do not smoke near the Dungeon.
PHOTOS:
***IMPORTANT!*** To protect everyone's privacy, personal photos are NOT allowed in the club. If you are spotted using a camera or cameraphone inside, you will be asked to leave. If you wish to take photos of friends, please do so in the courtyard using the wall as background (it will be clearly marked where you can photograph) – and be very careful not to get ANY other clubbers in the picture. We will be watching you and may ask to check photographs to make sure. Roving photographer to be confirmed!
VENUE:
As usual at Shape Bar, Hay St.
Spank guests will have use of the venue's ground floor including the private back alleyway entrance, indoor seating booths and dancefloor, plus use of the Bali-style courtyard with second bar and cabanas (perfect for smokers, or those who want to chat away from the music). For the comfort of fellow guests, we ask that you please refrain from smoking near the dungeon.
CLOAKROOM:
Provided by Shape Bar, opens at 10pm.
MUSIC:
DJs Stu V, Jessica_Kill and Boxer will be providing us with their signature blend of dirty house & techno, with goth-inspired dance tunes and EBM all night long.
DRINKS:
On special are the devilish Pink cocktail ($15) and Jungle juice buckets ($16)
TICKETS:
Tickets are not available in advance – entry is $20 on the door.
RULES:
Standard Spank rules apply, please see www.spankproductions.com.au to avoid disappointment on the night. Read website, FB or Fetlife events thoroughly, if you have questions, ask us!
PRIZES for best dressed:
Membership vouchers from AdultMatchMaker.com.au (Platinum memberships valued at $222, valid for 6 months).
18+ event. VALID PHOTO ID REQUIRED FOR ENTRY
NB 'ROAR' Right of admission reserved!