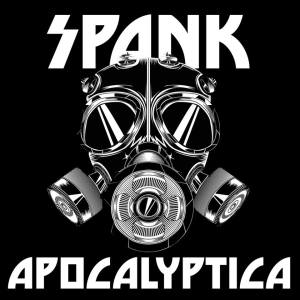 APOCALYPTICA IS COMING.
Party like it's your last night on earth with the SPANK! crew at the first nightclub party for 2015.
Apocalpytica is dirty, dark, and dangerous. It's intense, it's extravagant, it's finding pleasure in the darkest times. Apocalyptica is adrenaline, blood, muscle and bone – it's cold metal and hot flesh, it is both terrifying and beautiful, a combination of the thrill of survival and the threat of the end…
What is Apocalyptica to you? Are you a post-apocalyptic survivor – armed and dangerous, or one searching for salvation? A saviour or a sinner? A well-drilled soldier or a slavering beast? Creatures, preachers, mercenaries and missionaries meet for a night of darkness and depravity – escape purgatory for one night of thrilling release with us.
DJs play a mix of goth, EBM, industrial, techno, house and more all night, with our DMs Johnny BlackCross and the Wild Kat in the dungeon providing assistance from 11pm til late. Drink specials to be announced. Prizes for Best Dressed provided by AdultMatchmaker.com.au. Hellusive Photography and Vespa Photography are teaming up once again for roving and photobooth snaps of our guests in their finery. Our strict dress and behaviour code is in place to ensure all guests enjoy their night the right way – read below for more info.
Date: 23rd January, 2015
Time: 9pm – late
Cost: $20 on the door
Venue: Shape Bar, 237 Hay St East Perth (rear entry from laneway)
ALL GUESTS please read the information below – it may well have changed since you last joined us!
BEHAVIOUR:
Sleazy, disrespectful behaviour, (touching people without their permission, etc), WILL NOT BE TOLERATED. Spank and Shape staff take this behaviour very seriously and those behaving in this way will be warned or removed from the venue. If you see someone misbehaving, or are the victim of this behaviour, please INFORM A MEMBER OF STAFF IMMEDIATELY.
DRESS CODE:
NO OUTFIT, NO EFFORT = NO ENTRY: THIS WILL BE ENFORCED WITH PARTICULAR ENERGY BY SPANK AND SHAPE STAFF.
**BASIC BLACK OR A SHARP SUIT IS NOT ENOUGH TO GAIN ENTRY**
* Spank attendees do not look like they're out on a regular night on the town! Dress UP and dress for Spank only!
* No normal streetwear or regular formalwear is allowed – see www.spankproductions.com.au for ideas.
* No full nudity – bare boobs and bums are fine but no wrinkly bits please.
* Please bear in mind that if you see someone not in an outfit, they may actually be Shape Bar & Spank staff – please check with staff before you make an assumption.
DUNGEON:
Our DM team will take up residence in the dungeon from 11pm-2am to help ensure that play is safe and consensual. Please bring your own toys (whips, paddles etc) but bear in mind that we can't take responsibility for lost items. We will provide items of furniture for your use throughout the evening…
* As ever, you use the dungeon at your own risk.
* Absolutely no blood play or breaking of skin in the club.
* We ask that you do not smoke near the dungeon.
…Make sure to familiarise yourself with Dungeon rules on the Spank website, Facebook, or on the night.
PHOTOGRAPHY:
To protect everyone's privacy, personal photos are NOT allowed in the club. If you are spotted using a camera or cameraphone inside, you will be asked to leave. If you wish to take photos of friends, please do so in the courtyard using the wall as background (it will be clearly marked where you can photograph) – and be very careful not to get ANY other clubbers in the picture. We will be watching you and may ask to check photographs to make sure.
HELLUSIVE and VESPA Photography will be taking roving and photobooth snaps for us.
VENUE:
As usual at Shape Bar, Hay St, East Perth. (Rear entry)
Spank guests will have use of the venue's ground floor including the private back alleyway entrance, indoor seating booths and dance floor, plus use of the Bali-style courtyard with second bar and cabanas (perfect for smokers, or those who want to chat away from the music). For the comfort of fellow guests, we ask that you please refrain from smoking near the dungeon.
CLOAKROOM:
Provided by Shape Bar, opens at 10pm.
MUSIC:
Our resident DJs will be providing us with their signature blend of dirty house & techno, with goth-inspired dance tunes and EBM all night long.
DRINKS:
Drink specials to be announced.
TICKETS:
Tickets are not available in advance – entry is $20 on the door.
RULES:
Standard Spank rules apply, please see www.spankproductions.com.au to avoid disappointment on the night. Read website, FB or Fetlife events thoroughly, if you have questions, ask us!
PRIZES for best dressed:
Membership vouchers from AdultMatchMaker.com.au (Platinum memberships valued at $222, valid for 6 months).
18+ event. VALID PHOTO ID REQUIRED FOR ENTRY. 'ROAR' Right of admission reserved!